Do you have something valuable to say? Let the world hear you! I had a hard time finding the questions to ask when I first started my blog. So, I am providing a quick resource list for you to get started.
*My posts may contain affiliate links to products I actually use and love! At no extra cost to you, I may get a small commission for my recommendation. Thank you for supporting my family!*
WordPress.org
I use wordpress.org. It is 100% free for anyone to use. All you need is a domain name and web hosting. This is why it is called self-hosted WordPress. You own your website and all its data. There are pros and cons to both wordpress.com and wordpress.org, but if you are serious about making money, you need to own your website at wordpress.org.
WordPress has an impressive amount of plugins (helpful add-ons) you can download to assist your blog. Here are a few I use to work efficiently.
Boss Girl Bloggers is an incredible recourse for inexpensive information packed course on how to set up and monotize your blog. If you want to make money, El can teach you! 
Divi Theme
Even with the wordpress.org drag and drop system, I found it challenging to navigate. I invested in Divi Theme by Elegant Themes. I absolutely love this system! It is straightforward to use with super fast customer chat assistance. I wish I would have started with this initially. It has saved me an incredible amount of time and frustration!
Plug Ins
Yoast SEO: Optimize your site to help Google find it and rank it!
Tiny PNG: Squish the size of your images to help your site run faster!
WP Rocket: Speed up your site with this simple plug in!
Insert Headers And Footers: Unless you know how to code, you will need this plug in to add necessary code to your site.
UpDraft Plus: The world's most trusted WordPress backup, restore and clone plugin
Grammarly
Grammarly is free and has a chrome add on that makes it easy to use. Its primary function is to make sure your work is free of spelling, punctuation, and grammatical errors if you have never heard of it. 
Legal Forms
I searched the internet to find easy, affordable legal pages to avoid costly lawsuits just because I suggested a product to the public. (Yes, that happens) Here, at A Self Guru you will discover super-fast fill in the blank templates for the beginning website up to established websites. She is a lawyer and a blogger, so she speaks our language!
Mailerlite
I did not realize the importance of an email list when I started writing on my website. Your followers want to keep up with you and be the first to know of any promotions or special offers! Mailerlite is free for the first 1000 subscribers. They have a streamlined process I found easier to use than others like MailChimp.
Pinterest
If you don't already have a Pinterest account, get one! Pinterest is a free visual search engine. Pinterest also has some impressive analytics, including trending topics as well as predicted ones. You can easily take advantage of this to drive traffic to your blog.
Hands down, the best Pinterest course bang for your buck is Pinterest With Ell!
Tailwind
Tailwind has a google extension making it a simple tool to use! Simply click on a photo and tell tailwind to schedule it for you. Tailwind will then schedule pins to post on your Pinterest boards, telling Pinterest you are a regular active account with relatable and organized pins! Then, when you create a pin, you can add it to your already active and recognized board telling Pinterest to show it to their audience, driving traffic to your website.
Amazon Affiliate
If you suggest a product on your blog via amazon through their affiliate program, and someone makes a purchase, you may earn a small commission. To sign up for this, you need an email address with your domain name—for example, kerritrammel@glittermychaos.com. Go to your hosting site to help you with this. I use Ipage. They were quick and helpful in setting me up! This is also where you get your little green lock encryption!
ShareASale
Sign up for ShareASale to start applying for other affiliates to promote on your site. Here you can find your favorite companies, make ads on your page and start earning income.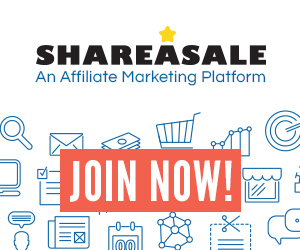 Google Analytics
Google Analytics records highly detailed analytics you can add to your webpage to see what your audience wants more of and what isn't as popular. This way, you can start to narrow down your site to build an audience who loves what you have to say and supports you!
These suggestions are not the only way to build a website. There are loads of places competing for your business. These are just the ones I have used and have been successful after ditching others! Now start telling the world your story!